- LED personalizzato

-
2835FIRC-81ES14I300-3P
I LED 810nm sono ampiamente utilizzati nelle macchine di bellezza e in alcune macchine per terapia a LED IR. È dimostrato che poiché la lunghezza d'onda di 810 nm è vicino all'infrarosso nello spettro, l'elevato assorbimento di melanina ed emoglobina rende il laser di questa lunghezza d'onda ha un ottimo effetto emostatico. Nella vena, il calore può far contrarre la parete del vaso, degenerare il collagene e la fibrosi, e infine portare alla * chiusura della vena. Poiché la profondità di penetrazione del laser a 810 nm nel sangue è di 0,3 mm, il suo danno alla parete del vaso raggiunge l'intervallo minimo. Se il tuo design non ha molto spazio per il montaggio del LED SMD, ma hai bisogno di 3 chip LED nel circuito per il tuo prodotto. Questi LED a 3 chip da 810 nm non ti lasceranno deluso dalle prestazioni. Hai bisogno di un LED ad alta potenza da 810nm per la tua applicazione? Le altre lunghezze d'onda come 940nm LED con 3 chip, sono disponibili 850nm LED con 3 chip. Contattaci subito per la tua applicazione e design!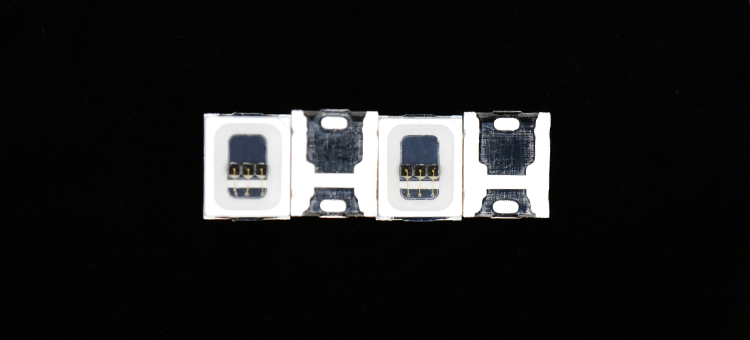 - Size: 3.5*2.8*0.8mm

- Chip Number: 3 chips

- Color: 810nm IR LED

- Type: Surface mount device

- Chip brand: Tyntek




- Different color are available

- Different wavelength are available

- Warranty: 5 Years


- RoHS, REACH, EN62471


- Uniform light output

- Long life-solid state reliability

- Low Power consumption


-Anti UV epoxy resin package


-High temperature resistance
- Parametri dimensione -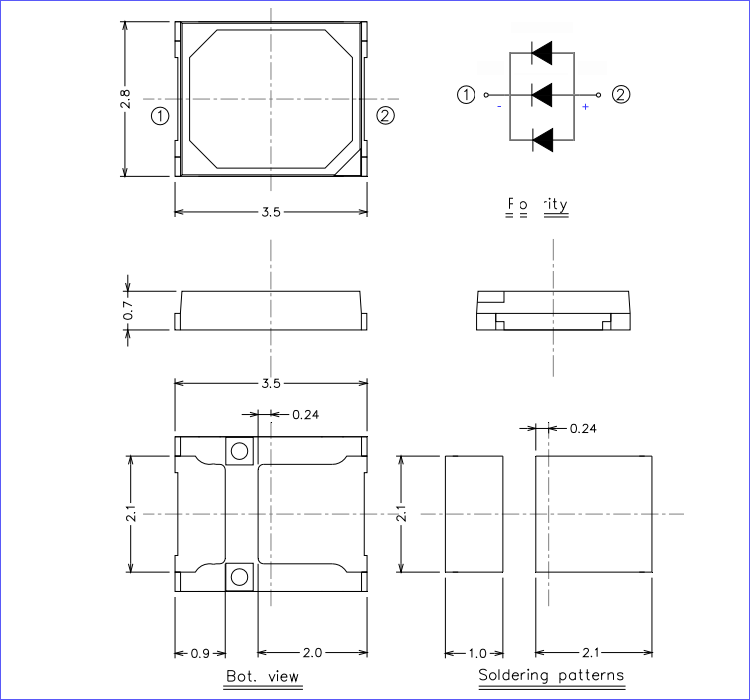 Queste custodie LED SMD sono disponibili anche per LED IR, LED UV, LED SMD blu, LED SMD rosso, LED ambra ect.
- Emissione del colore -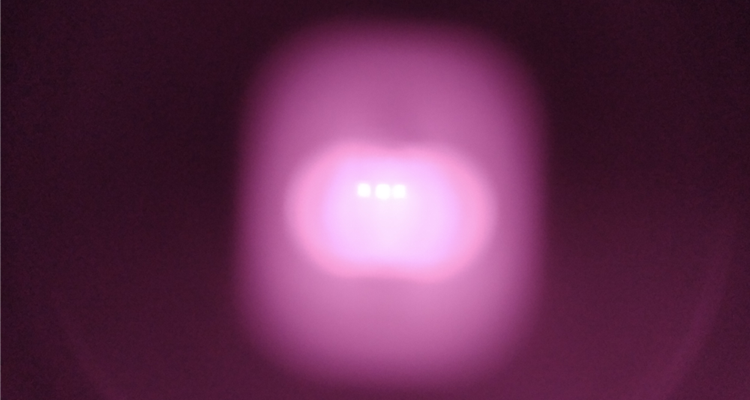 * I colori nella foto sono stati acquisiti dalla fotocamera, si prega di prendere il colore di emissione effettivo di serie.
- Parametri elettrici -

Parameter

Symbol

Rating

Power Dissipation

Pd

600mw

Pulse Forward Current

IFP

1500mA

Forward Current

IF

300mA

Reverse Voltage

VR

5V

Junction Temperature

Tj

115°C

Operating Tempertature

Topr

-40 - +80°C

Storage Tempertature

Tstg

-40 - +100°C

Soldering Temperature

Tsol

260°C

Electro-Static-Discharge(HBM)

ESD

3000v

Warranty

Time

5Years

Antistatic bag

Piece

4000Bag

*Pulse Forward Current Condition:Duty 1% and Pulse Width=10us.

*Soldering Condition:Soldering condition must be completed with 3 seconds at 260°C
Parameter

Symbol

Min

Typ

Max

Unit

Test Condition

Radiant Intensity

Ee

20

30

mw/sr

IF=60mA

50

70

IF=150mA

90

120

IF=300mA

Viewing Angle

2q1/2

120

deg

IF=150mA

Peak Wavelength

λp

800

800

812

nm

IF=150mA

Spectral Bandwidth

Dl

50

nm

IF=150mA

Forward Voltage

VF

1.2

1.3

1.6

V

IF=60mA

1.3

1.5

1.7

IF=150mA

1.6

1.8

2.0

IF=300mA

Reverse Current

IR

5

uA

VR=5V

*Luminous Intensity is measured by ZWL600.

*2q1/2 is the off-axis angle at which the luminous intensity is half the axial luminous intensity.

*lD is derived from the CIE chromaticity diagram and represents the single wavelength which defines the color of the device.
- Collegamento filo dorato -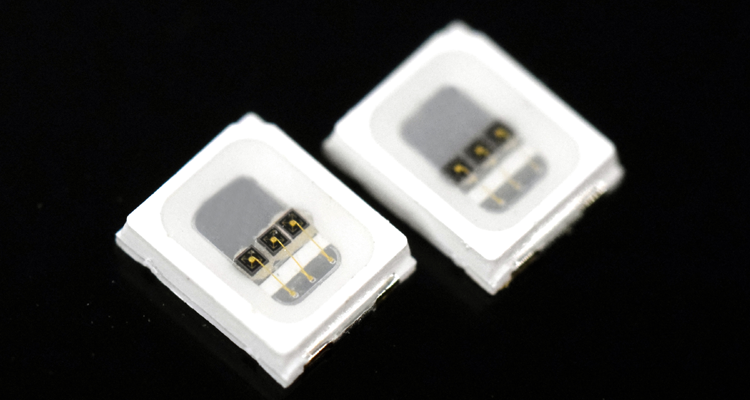 * Al fine di preservare la lunga durata di ognuno dei LED, la fabbrica BestLED utilizza un filo d'oro puro per il collegamento del circuito interno
- Imballaggio -

* Lo imballiamo con il sottovuoto dopo averlo registrato come una bobina
- Applicazione -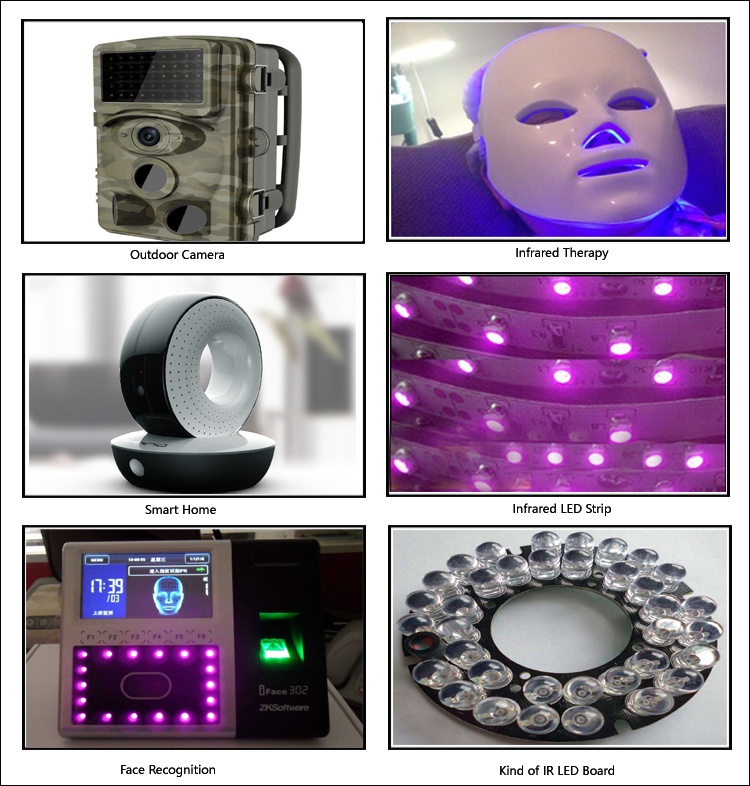 - LED correlato -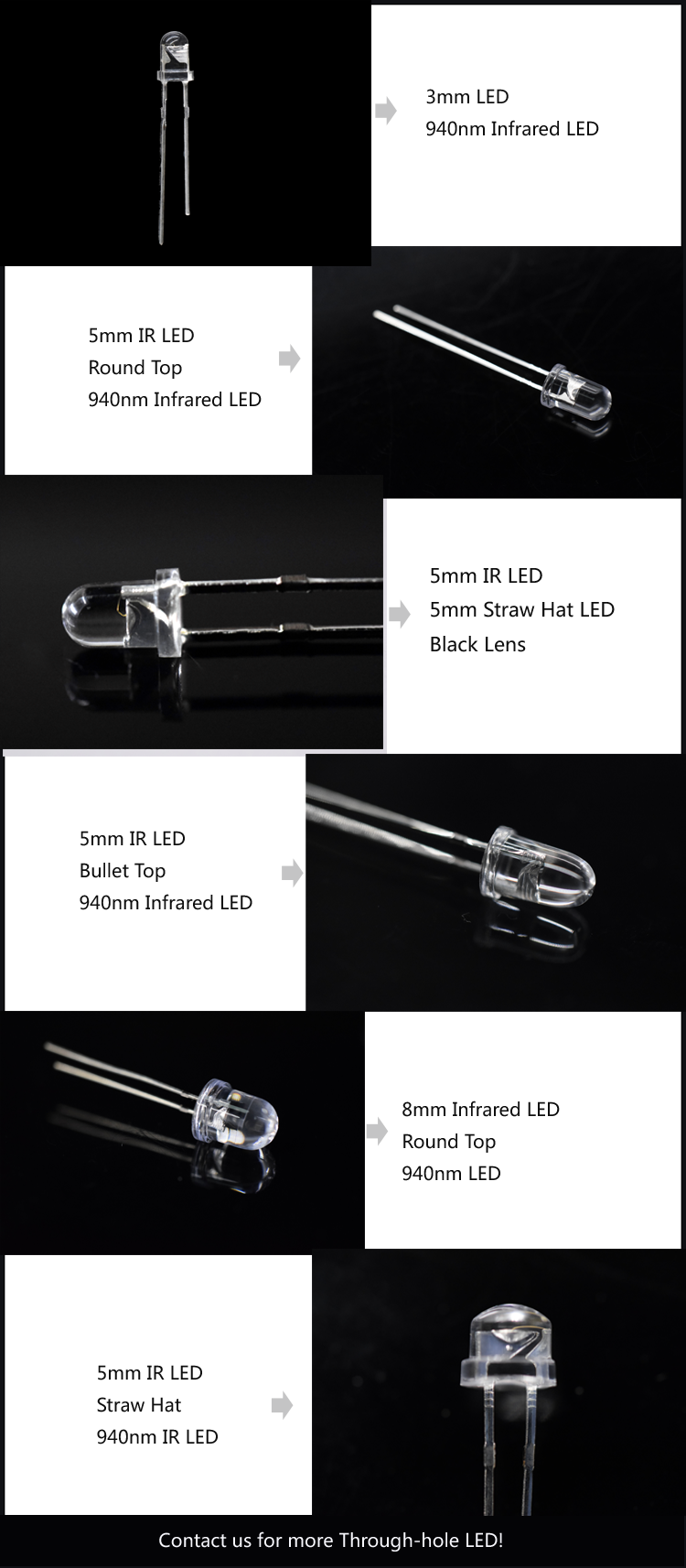 - Produzione -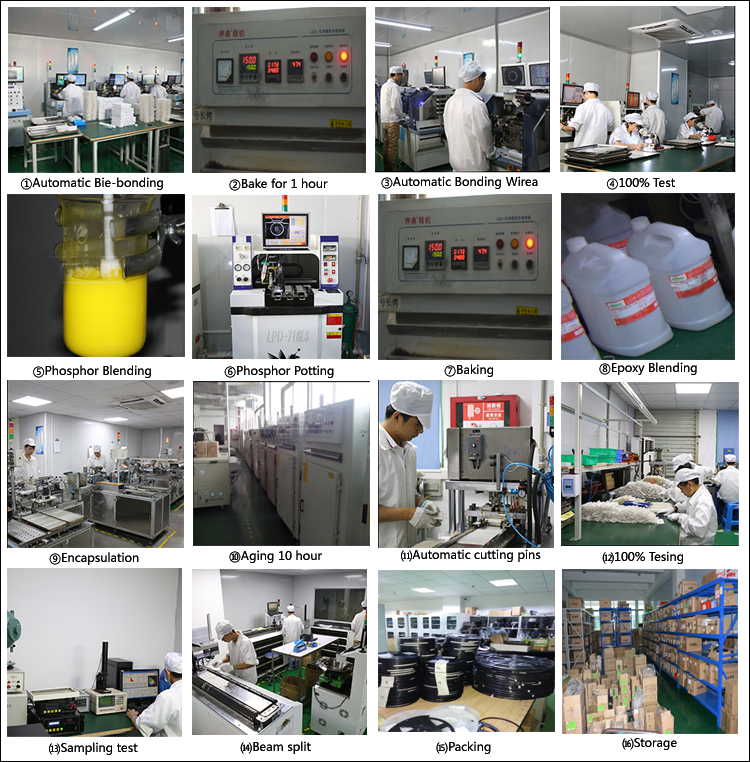 - Uso -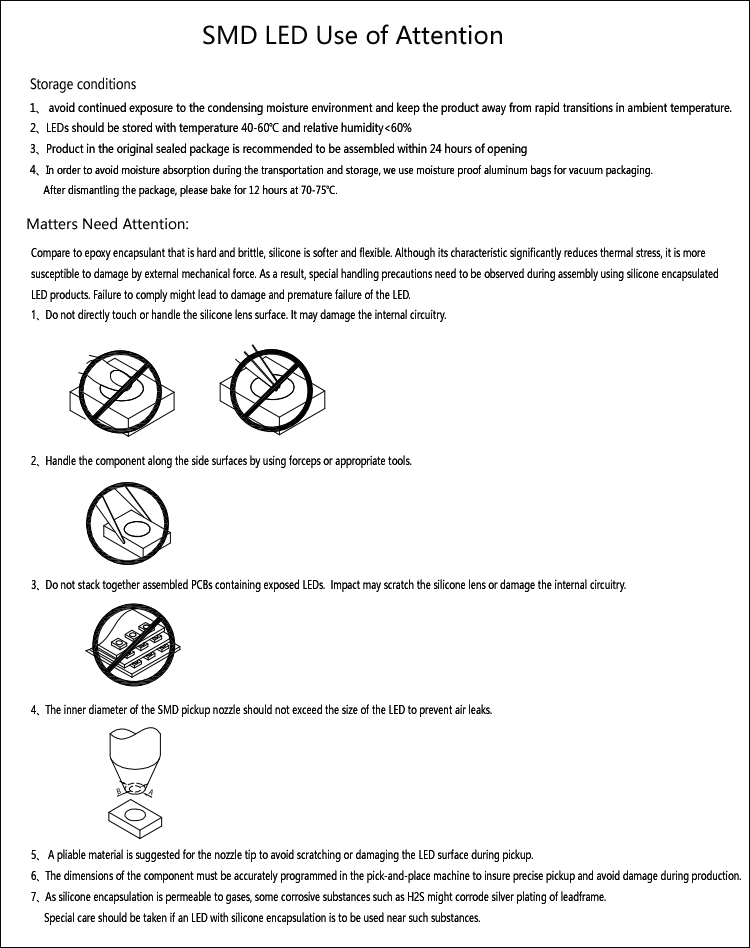 Elenco prodotti : LED personalizzato