- 2835 LED SMD

-
2835FIRC-76L / 14I100
Nel mercato dei LED, chiamiamo questo LED 760nm come LED vicino all'infrarosso quando questo LED a infrarossi ha una lunghezza d'onda nell'intervallo da 700 nm a 1000 nm. Shenzhen Best LED Opto-elettronico Co., Ltd offre LED a infrarossi con 700nm LED, 730nm LED, 780nm LED, 910nm LED, 830nm LED, 850nm LED, 900nm LED, 940nm LED ect LED a infrarossi. 760nm LED è un LED a infrarossi confezionato con una custodia LED SMD 2835 (uno dei dispositivi di montaggio superficiale). Questo LED IR SMD ha una grande prestazione di dissipazione del calore. Come sappiamo, gli infrarossi sono una specie di energia radiante invisibile, una radiazione elettromagnetica con lunghezze d'onda più lunghe di quelle della luce visibile. Tutti questi emettitori a infrarossi possono essere imballati con diverse forme di lampade o dispositivi a montaggio superficiale (tipo LED SMD) per la vostra scelta. Come la cassa LED SMD 3528, la custodia LED SMD 5730, la custodia LED SMD 3014, la custodia LED 5mm a foro passante o la custodia LED 3mm foro passante ect. Questo 2835FIRC-76L / 14I100 è stato confezionato da 2835 LED SMD che hanno una puzza di calore nella parte inferiore della custodia del LED SMD. Con questo vantaggio, questo LED a infrarossi può inviare il calore in eccesso quando funziona. Se hai bisogno di un LED IR con prestazioni perfette alle alte temperature, questo LED SMD non ti deluderà. Hai bisogno di un LED a infrarossi per il tuo progetto? Contattaci per maggiori dettagli!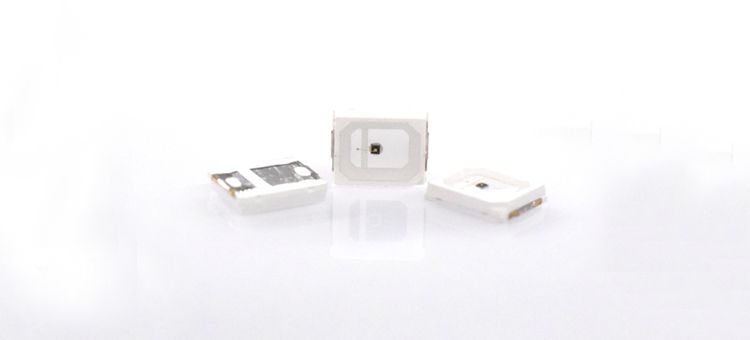 - Size: 3.5*2.8*0.8mm

- Chip Number: 1 chip

- Wavelength: 760nm LED

- Type: Surface mount device

- Chip brand: customize led

- Nick mark: Anode

- Different color are available

- Different wavelength are available

- Warranty: 5 Years


- RoHS, REACH, EN62471


- Uniform light output

- Long life-solid state reliability

- Low Power consumption


-Anti UV epoxy resin package


-High temperature resistance
- Parametri dimensionali -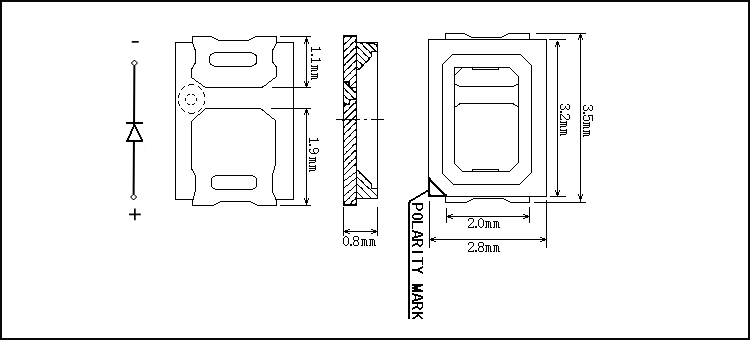 Queste custodie LED SMD sono disponibili anche per LED IR, LED UV, LED SMD blu, LED SMD rosso, LED ambra ecc.
- Emissione del colore -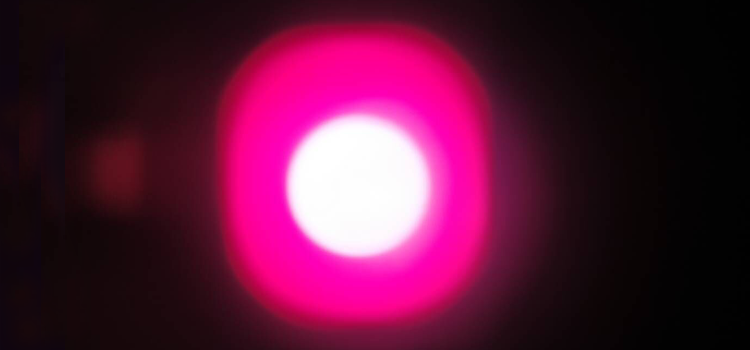 * I colori nella foto sono stati presi dalla fotocamera, si prega di prendere colore di emissione reale come standard.
- Parametri elettrici -

Valutazioni massime assolute a Ta = 25 ℃
Parameter

Symbol

Rating

Power Dissipation

Pd

270mW

Pulse Forward Current

IFP

350mA

Forward Current

IF

100mA

Reverse Voltage

VR

5V

Junction Temperature

Tj

115°C

Operating Tempertature

Topr

-40 - +80°C

Storage Tempertature

Tstg

-40 - +100°C

Soldering Temperature

Tsol

260°C

Electro-Static-Discharge(HBM)

ESD

2000v

Warranty

Time

5Years

Antistatic bag

Piece

4000Back

*Pulse Forward Current Condition:Duty 1% and Pulse Width=10us.

*Soldering Condition:Soldering condition must be completed with 3 seconds at 260°C
Caratteristiche ottiche ed elettriche ( T c = 25 ℃ )
Parameter

Symbol

Min

Typ

Max

Unit

Test Condition

Forward Voltage

VF

2.2

2.7

V

IF=100mA

Pulse Forward Voltage

VF

3.6

V

IFP=350mA

Radiant Intensity

IE

50

70

mw/sr

IF=100mA

Peak Wavelength

λP

750

760

770

nm

IF=100mA

Total Radiated Power

PO

5.6

mw

IF=100mA

Half Width

Dl

50

nm

IF=100mA

Viewing Half Angle

2q1/2

±60

deg

IF=100mA

Reverse Current

IR

5

uA

VR=5V

Rise Time

Tr

25

ns

IF=100mA

Fall Time

Tf

13

ns

IF=100mA

*Luminous Intensity is measured by ZWL600.

*q1/2 is the off-axis angle at which the luminous intensity is half the axial luminous intensity.

*lD is derived from the CIE chromaticity diagram and represents the single wavelength which defines the color of the device.
- Connessione Golden Wire -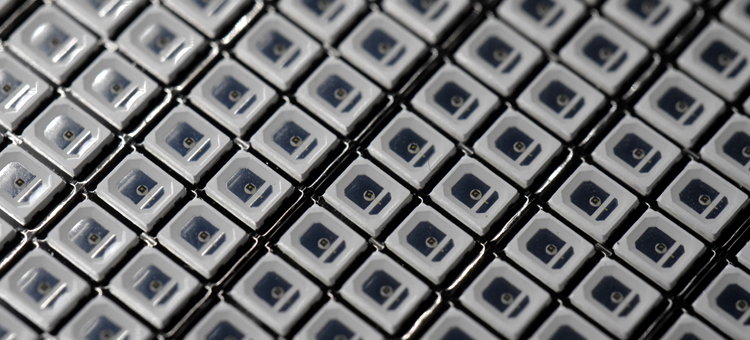 * Al fine di preservare la lunga durata di ogni LED, la fabbrica BestLED utilizza un filo d'oro puro per la connessione al circuito interno
- 760nm led -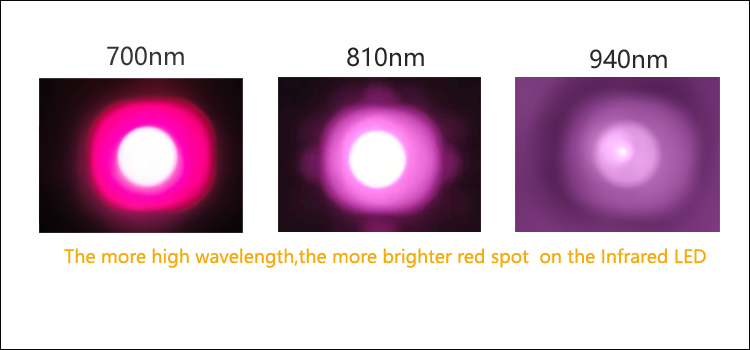 - Imballaggio -

* Lo impacchettiamo con l'imballaggio sotto vuoto dopo averlo avvolto come una bobina
- Applicazione -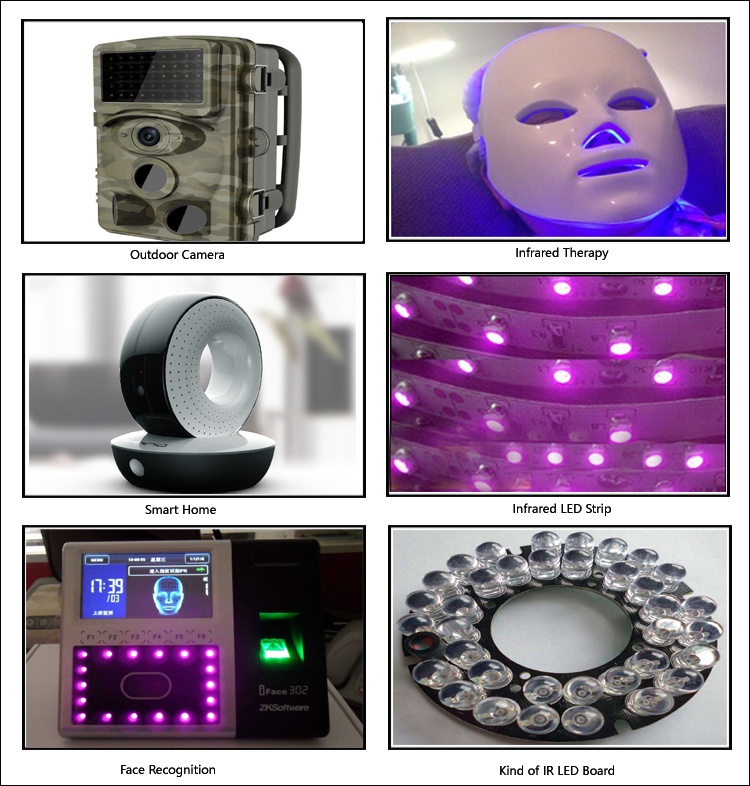 - LED IR correlato -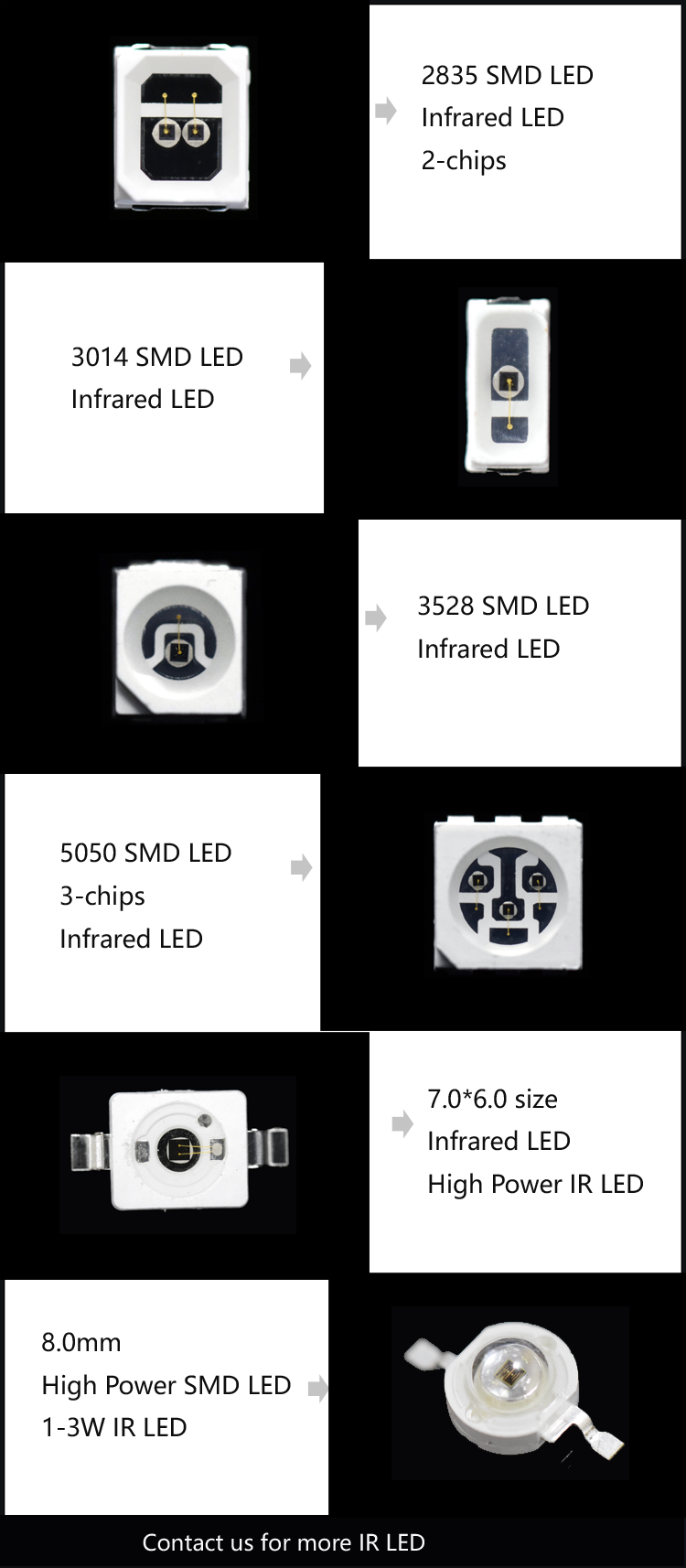 - Produzione -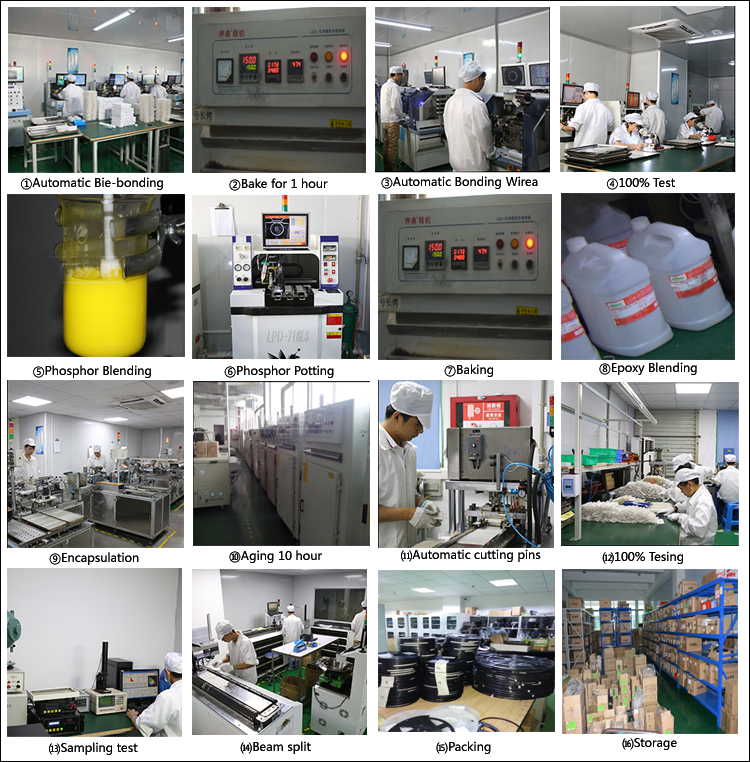 - Uso -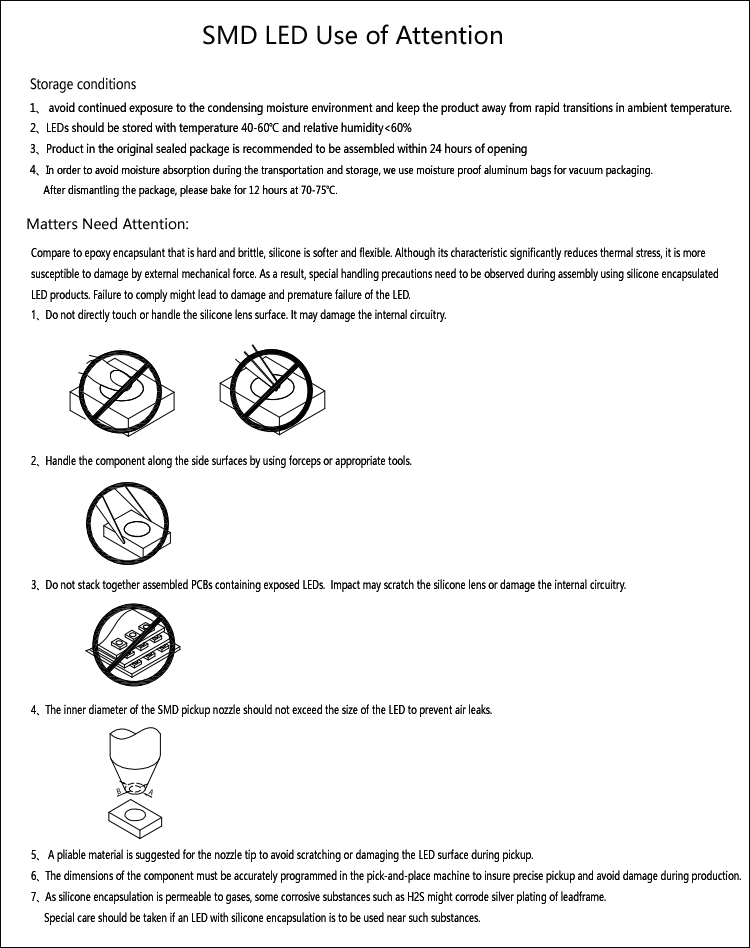 Elenco prodotti : LED SMD > 2835 LED SMD